This green mango smoothie bowl is refreshing, tasty, and packed with nutrients. It contains various healthy ingredients including mango, spinach, kale, lemon, and seeds. Enjoy this fiber filled breakfast to start the day off right!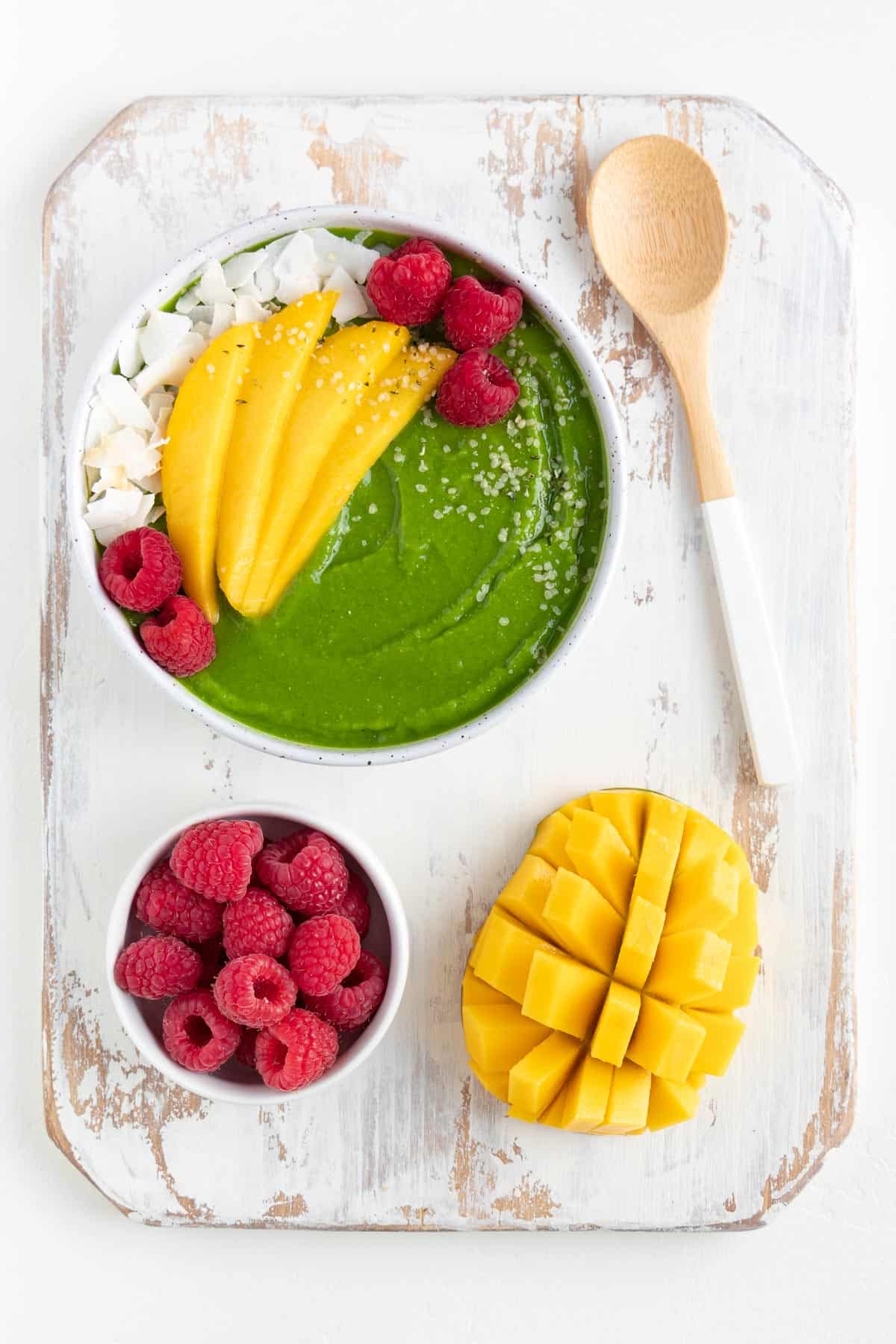 WHAT INGREDIENTS ARE IN A GREEN MANGO SMOOTHIE BOWL?
Mango
Spinach
Kale
Hemp seeds (or chia seeds)
Lemon juice
Nondairy milk (almond or coconut)

HOW TO MAKE A GREEN MANGO SMOOTHIE BOWL
Smoothie bowls are one of the quickest, easiest meals to make. Essentially, you just toss the ingredients in a blender, blend, and add your favorite toppings afterwards.
Add frozen mango, spinach, kale, hemp seeds (or chia seeds), lemon, and nondairy milk to a high-speed blender.
Blend the ingredients until a smooth and creamy consistency forms.
Transfer the green mango smoothie into a bowl. Add desired toppings and enjoy!
IS A GREEN SMOOTHIE HEALTHY?
Absolutely! This green mango smoothie bowl contains two very nutrient-rich ingredients: spinach and kale. Spinach is a wonderful source of several vitamins and minerals, including Vitamin A, Vitamin C, and Iron. Kale also provides many benefits. Specifically, it offers fiber, antioxidants. and various vitamins.
WHAT GREENS CAN YOU PUT IN A SMOOTHIE?
If you enjoy green smoothies, you are probably an avid consumer of healthy meals. Therefore, feel free to incorporate extra greens and superfoods to your smoothie bowl.
Here are 7 green ingredients commonly included in smoothies:
Kale
Spinach
Arugula
Parsley
Avocado
Celery
Swiss chard
HOW DO YOU THICKEN A SMOOTHIE BOWL?
In order to create a thick smoothie bowl, follow the steps below:
Blend the ingredients with as little liquid as possible. More liquid will create a runnier smoothie, while less liquid will create a thicker smoothie. A high-powered blender works best; it will allow you to blend the ingredients with minimal liquid.
Use frozen fruit. More specifically, use frozen bananas or frozen mango. These two fruits create the creamiest texture.
Add ice. Adding ice is a convenient option when your smoothie is too runny.
WHAT DO YOU PUT ON TOP OF A SMOOTHIE BOWL?
The options are endless! For this green mango smoothie bowl recipe, in particular, I prefer to add sliced mango, coconut flakes, and berries on top. Other delicious options include granola, nuts and seeds, almond butter, shredded coconut, and agave drizzle.
GREEN MANGO SMOOTHIE BOWL
Course: Breakfast
Cuisine: Vegan, Gluten_Free
This green mango smoothie bowl is refreshing, packed with nutrients, and easy to make! 
Ingredients
For Smoothie:

1.5 cups frozen mango

1 cup spinach, loosely packed

1 cup kale, loosely packed

2 tbsp hemp seeds or chia seeds

1 tbsp lemon juice

Toppings (optional):

Sliced mango

Coconut flakes

Berries

Nuts or seeds

Granola
Directions
Add all ingredients to a high-speed blender. Blend until smooth and creamy. 
Transfer smoothie into a bowl.
Top smoothie bowls with any desired toppings. Enjoy! 
This recipe was created by purelykaylie read the full article here