This vegan butter is super buttery, creamy, rich, and spreadable! And it even melts on warm toast! The recipe couldn't be much easier and the preparation takes just minutes.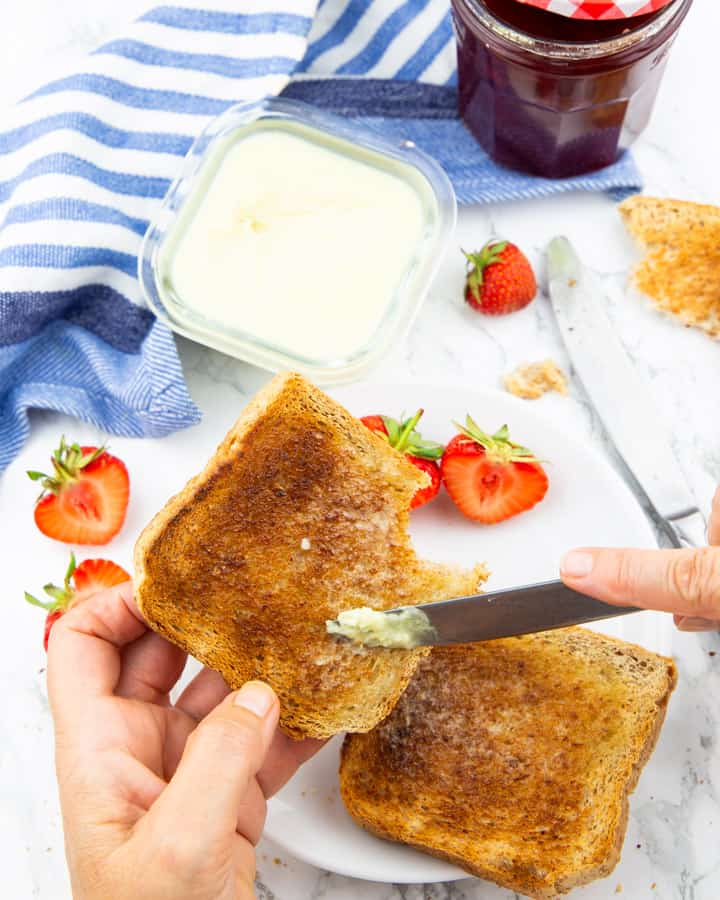 Making homemade vegan butter is super easy! And it tastes so much like real butter. You can even use it for baking and frying. Besides, it's free of emulsifiers and preservatives.
In many countries it's still hard to find vegan butter, although it's getting way easier in general. So if you want a creamy and rich alternative to regular butter but can't find it at the store, you should try this recipe!
It just takes about 5 minutes to prepare! It also needs some time in the fridge to set, but you don't have to do anything during that time.
WHAT YOU NEED FOR THE VEGAN BUTTER:
You should be able to find all of the ingredients in any regular grocery store. The only exception might be the nutritional yeast. But you can find it in the organic section of many grocery stores. If not check out your local health food store.
You need:
melted coconut oil
nutritional yeast
salt
unsweetened soy or almond milk
apple cider vinegar
turmeric
cashews
canola oil
VEGAN BUTTER
Course: Breakfast
Cuisine: American
Ingredients
0.06 cup cashews

0.25 cup coconut oil, melted

0.5 teaspoons nutritional yeast

0.25 teaspoon salt

0.13 cup unsweetened soy or almond milk

0.25 teaspoon apple cider vinegar

0.25 pinch turmeric

0.75 tablespoons canola oil
Directions
Place the cashews in a blender and process until they resemble a fine flour. This should take about a minute. 
Add the remaining ingredients and process until everything is well combined.
Transfer the mixture into a small glass dish and place it in the fridge for at least 2 hours. 
Notes
I added nutritional yeast to my vegan butter because it adds buttery flavor. The recipe will still work without the nutritional yeast, but the buttery flavor that makes this vegan butter taste like the real thing will be less. 
Make sure not to add too much or you will end up with super bright yellow butter. A small pinch is enough! 
The butter keeps for about 2 weeks in the fridge. It's best stored in a glass jar covered with a lid. The oils are not the problem as they are very long lasting, but the other ingredients, especially the plant-based milk, will go bad after a while. 
If you can't finish the dairy-free butter before it goes bad, just put it in the freezer. It freezes really well and it lasts in the freezer for about 3 months. To defrost it, just leave it in the fridge to thaw. 
This recipe was created by veganheaven.org read the full article here