Save money and learn how to make a chai tea latte at home! A warm and spicy spiced tea blended with frothed milk for only a fraction of the price! Made in under 10 minutes.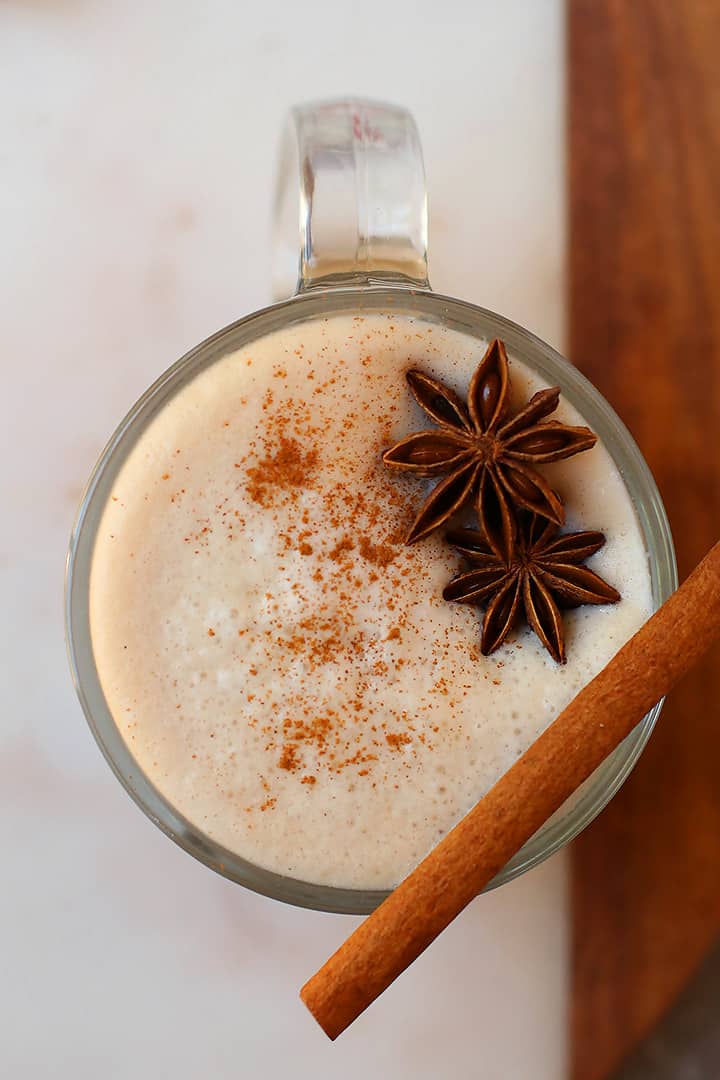 My, how things have changed.
This How to Make a Chai Tea Latte post was originally published in 2012! Back then I had only one child, was still married, and, the biggest shocker of them all, I STILL DRANK COFFEE! At the end of the post, I admit that my go-to drink was a quad-soy latte and chai tea lattes were my afternoon delight. 6 years later, I can barely handle caffeine in any form so it's herbal tea for me, please.
But now that it's fall, I have been hard-core craving chai tea lattes. Without caffeine in my life, what was a girl to do?
Rooibos, my friends. The answer is Rooibos.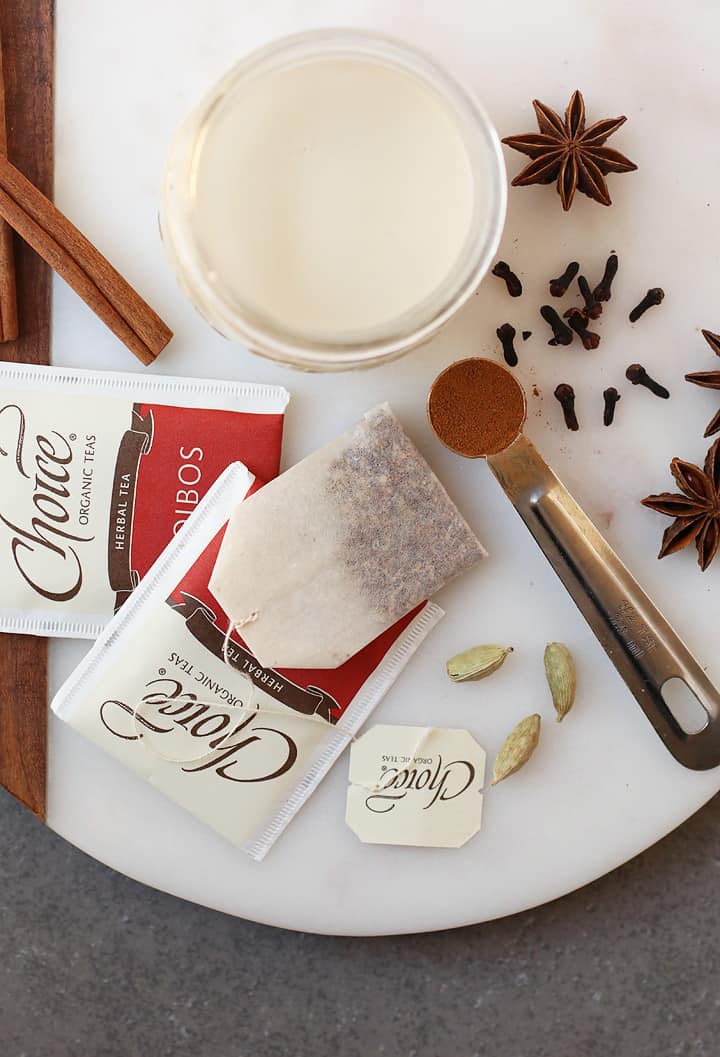 WHAT IS ROOIBOS?
Rooibos, or red bush tea as it is commonly called, is an herb that comes exclusively from South Africa. It has been around for the past 300 years but only recently gained popularity as a tea. Rooibos has smoky, sweet, and vanilla flavors that pair deliciously with the spices commonly associated with chai tea.
Rooibos is not only delicious, but it also has many health benefits. As someone who cannot drink caffeine I find Rooibos tea the perfect alternative.
HOWEVER, Chai Tea Lattes traditionally use black tea.
And so, if you are looking for a caffeinated Chai Tea Latte, an unflavored black tea is the way to go. Which, you'll be happy to know, has it's own many health benefits.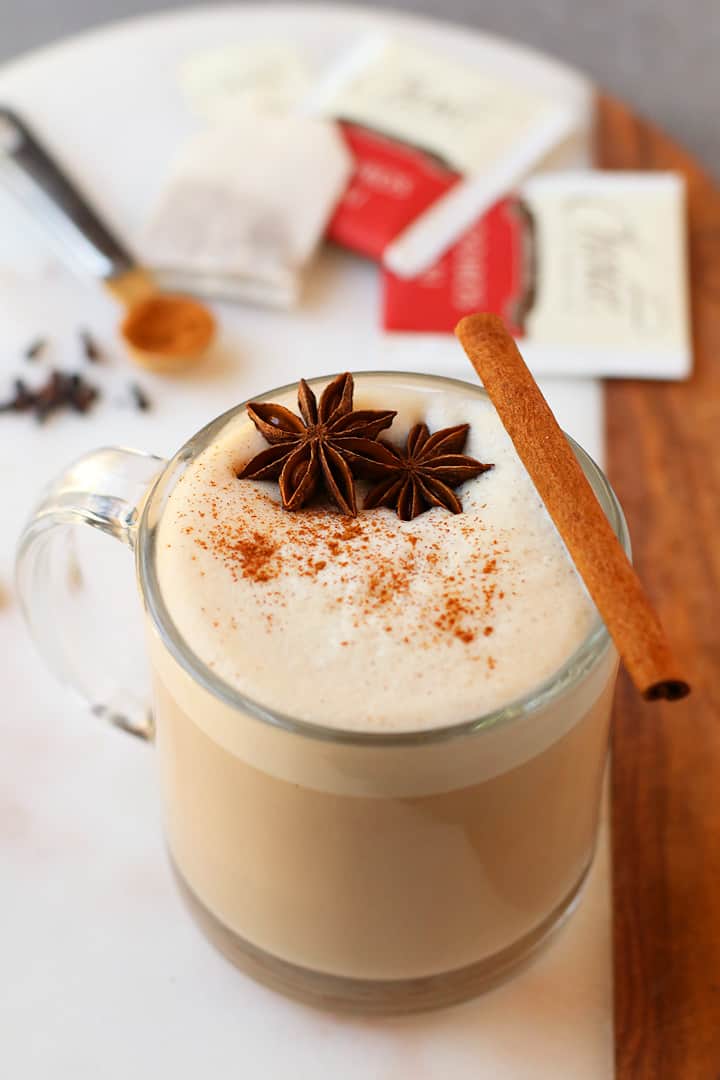 HOW TO MAKE A CHAI TEA LATTE
There are several ways to make homemade chai lattes. I have tried many over the years. Over time I have developed a tried and true chai tea latte that I think you will love!
STEP ONE: CHOOSE YOUR SPICES
Once we've picked out our tea – it's an important decision, my friends – we can start making our chai tea latte. In addition to tea, I like to use whole spices that get steeped with tea for a full flavored experience.
MY GO-TO SPICES ARE:
Cinnamon
Cardamom
Star Anise
Cloves
Peppercorn
Nutmeg
Sometimes, I'll also add grated ginger into my tea (just throw it in with the spices) if I'm looking for a little extra zing. The spices are very flexible in this recipe, so mix and match as you please.
STEP TWO: BOIL AND STEEP
With your tea and spices picked out, the next step is to boil and steep them in 1 cup of water. You are essentially making a chai tea concentrate. If you know you will be drinking a lot of chai teas this fall and want to be efficient, double or triple the batch and store your chai tea concentrate in the refrigerator for up to two weeks.
Once your tea and spices have steeped for 5 minutes, pour them through a fine mesh strainer so that just the concentrate remains.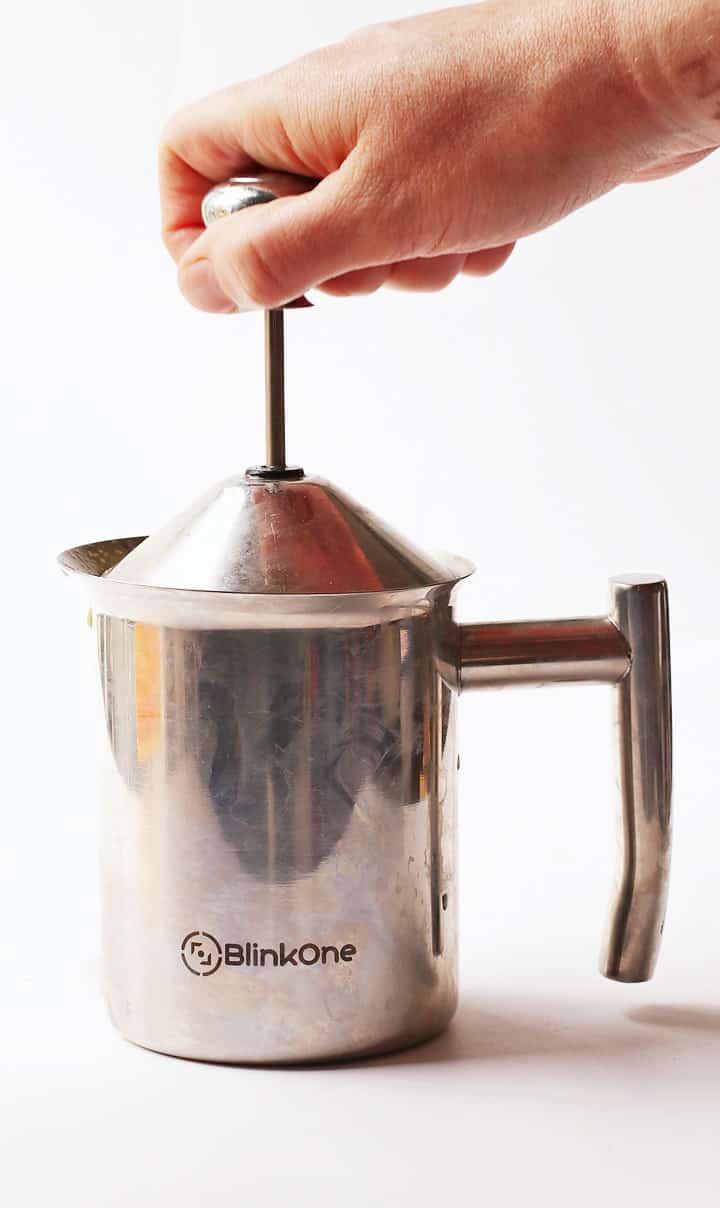 STEP THREE: FROTH THE MILK!
Again, it's time to make some decisions. What kind of milk goes best with your Chai Tea Latte?
My preference is soy because the flavors blend well with the spices of chai. Additionally, soy milk is one of the best non-dairy milk for frothing. However, if you don't like soy my other recommendations are hemp, cashew, or oat both for flavor and texture.
To get a nice frothy foam on our milk, I heat it up to a scald, that's just before boiling point, then transfer the milk to my frother and give it a few pumps.
So easy!
TIPS AND TRICKS FOR PERFECTING A HOMEMADE CHAI LATTE
A great chai latte is a balance of spices. Experiment with the spices in this recipe to find the perfect combination for you.
I highly recommend getting a milk frother. However, if you have a French press, those work great for frothing milk. Just pour your warm milk into the French press. Pump it up and down a few times and you'll have delicious latte-quality frothed milk!
Serve your Chai Tea Latte immediately with an oatmeal date scone or vegan blueberry muffin.
Top your vegan latte with some star anise and sprinkled cinnamon for a beautiful morning beverage.
Sound good? Let's take a look at the recipe card below.
CHAI TEA LATTE
Course: Drinks
Directions
Over medium-high heat, combine the water, tea bags, and spices in a medium-sized saucepan and bring to a boil. Boil for five minutes. Remove from heat and stir in maple syrup if using. 
Carefully pour hot water through a strainer, dividing it equally into two mugs so that just the tea concentrate remains. In the same saucepan, bring heat milk to scald (just before boiling point) then remove from heat.
Transfer milk to your milk frother and pump up and down a few times until your milk is light a frothy. Tap the frother a few times on the counter to let the milk settle a bit. 
Top off each mug with milk. Sprinkle with cinnamon, garnish with a couple star anise (optional) and enjoy immediately!
Notes
Black tea is traditional for Chai Lattes, however, I use Rooibos tea for an herbal, caffeine-free option.
If you don't have a manual milk frother, a French Press works well.
This recipe was created by myDarlingvegan read the full text here